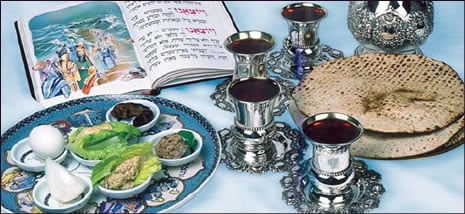 Pesach 2021 - 27. marts- 4. april.
Pesach hos Chabad:  Naturligvis var vores håb at kunne organisere alle Seder aftenerne, som vi plejer at gøre. men desværre det kan vi ikke... næste år i Jerusalem!
Desværre er seder aftener hos Chabad, aflyst. Vi ønsker sundhed - gezunt til alle sammen, og en Chag Pesach kosher vesamach! Kontakt os hvis du har brug for noget.
Pesach info og vejledning her.
Pesach megasite,  klik her. 
Pesach Seder vejledning her
Pesach haggada for børn her
Børne aktiviteter og hæfter her
Printable Haggadas here
Køb Judaica til Pesach her.
Sælg din chametz her 
Bestil en sederpakke her.
Velkommen til Pesach Seder aftener: Traditionel, oplysende og velsmagende! 
Fejre aftenen med familie og venner og kom med os, når vi læser haggadan, nyd fin vin, håndlavede matzot fra Israel, lækker hjemmelavet Pesach mad, sange og dejlig selskab.
Forregistrering er nødvendig, da antallet af pladser er begrænset!
Første seder aften: Onsdag, d. 8. april. kl. 19.00 /First seder evening: Wednesday, 8th April, 7:00 PM
Anden seder aften: Torsdag aften, d. 9. april, kl. 21.30 / Second seder evening: Thursday, 9th April, 9.30 PM
Chabad Huset, Ole Suhrs gade 10, 1354 Kbh K
Pris: 280 kr. - voksne. 180 kr. - børn
Seder i Århus: Please follow  here for info for the seder in Århus.
To join other Pesach holiday meals, please  click here.
Om Seudat Mashiach / Grand finale to Pesach follow here
Sælg din chametz / Sell your chametz online  HERE!
Pre pesach aktiviteter for børne-familier/ activities for children, see  here
Køb kiddush kop, seder fad, Pesach aktiviteter for børn her. /Pesach judaica and childrens items, follow here.